Melbourne Buck's Packages
Having a bucks party in Melbourne is a lot of fun. Why not get GoBananas to create a bucks package for your group.
Our Melbourne bucks packages are all about value for money and incorporating what we know blokes love into a neat little parcel that's just waiting to be experienced by you and your mates.
GoBananas Melbourne Bucks Packages
Accommodation and activity packages in Melbourne is great for groups coming into Melbourne for their bucks weekend. GoBananas can custom make a package to suit your budget and group size.
Check out our bucks boat cruise package - boat, booze and babes! We probably don't need to say more as those 3 words have most likely already got you salivating, but since we're here we may as well give you a few more details.
So picture this as your Melbourne bucks package:
• 3-hour private boat cruise
• 2 level boat so lots of indoor and outdoor space
• Platters with a selection of yummy foods
• Beer, wine and soft drinks included
• A bar that you can purchase spirits from if you want to
• 2 topless waitresses for 3 hours
• A XXX strip show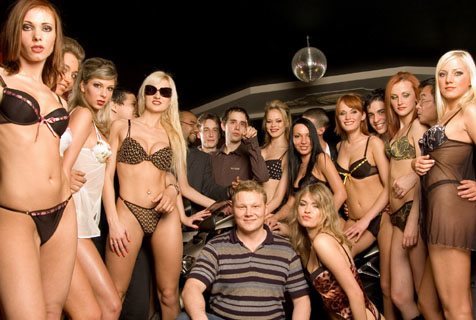 Sounds pretty incredible, doesn't it? But we're not quite done yet as once you've disembarked from the boat you have the option to choose between two great venues to go to. You can head to either a top night club and get free entry to listen to some great music and chill with mates, or if you didn't quite get enough eye candy on the boat you can head into one of Melbourne's top strip clubs and hang out there all night if you want to.
Whichever way you choose this package is certain to give you and the boy's one kick ass buck's party in Melbourne.
Why you should book your Melbourne buck's package with GoBananas
Aside from the fact that we have amazing activities you mean? Well, we do have a few other redeeming qualities separate from pretty girls and big boats in Melbourne. For example:
• We have an awesome team who are more than happy to answer all your buck's party questions and give advice where needed.
• All your booking info is easily accessed from your online itinerary, and the best part is that it's a living document so as we amend things on out end it automatically changes on your end too – that way you're always in the loop.
• Our group payment system means that your mates can pay us for their share direct, no need to awkwardly chase 5 people 10 times a day waiting for them to put their money in your account.
• We do all the boring work for you so you won't find yourself calling suppliers to organise timings and availability – we take care of all of that for you.
Talk to GoBananas today about your Melbourne Bucks Weekend and book a bucks package to make your life easy.