Top Tips for a Great Bucks Day in Perth
We've been in the business of organizing awesome Perth Buck's Day's for a while now, so it's no surprise that we have discovered a few handy hints to make the stressful process of planning this all important celebration a little easier. Now you may think that you can just hit up the pub and sit there drinking beer and eating chips all day, but will that suffice? Is that really what your best mate deserves right before he makes the brave leap into marriage? Some blokes may be content with that and that's totally fine – but chances are he's going to want something of substance and that can put a lot of pressure on the poor soul who's been assigned the task.
But don't fret, because if you book with us and take note of our few pointers listed below – you'll be well on your way to a flippin' amazing Buck's Day in Perth.
Don't hit the booze too soon – A successful buck's day is all about pacing, if you get the lads on the hard stuff too early on in the day, chances are they'll burn out quick smart and the rest of the festivities will be a blur of sickness, slurring and being shooed away from pubs. No thanks.
Set a budget – It's important and also considerate to find out what each person in your group is willing/able to spend. Find a price that everyone can manage. No one wants to be excluded because the per person share is just way too high for them – it's awkward for you and embarrassing for them.
Plan ahead – While we can usually rustle something together for a last minute booking, it's far easier on both you and us if you start the process a few months in advance. A lot of activities can book out weeks beforehand, especially in peak seasons so to avoid disappointment start booking early.
Don't have too many cooks in the kitchen – It's good to get a rough idea of what the guys in your group enjoy doing, but don't try to please everyone; especially if you have a large group. Keep the decision making down to one or two people max to avoid conflict's and confusion.
Best Activities for a Perth Bucks Day
Now that you have a good idea about the best way to go about planning the festivities, let's take a look at the fun stuff – our top options for a great buck's day in Perth:
Brewery Tour in Perth
This is a very popular option with a lot of our buck's groups in Perth. A 5-hour round trip in Swan Valley, private - included is pick up and drop off, transport between 2 breweries with tastings at each where you get to sample a selection of their finest beers and maybe buy some to take home. A great afternoon activity.
Clay Bird Shooting in Perth
Awesome for a morning activity, all equipment and staff are provided in this fun activity. Whether you're a pro shooter or a novice, this is something that everyone can enjoy. You get to use real guns as well so definitely has that extra element of excitement to it. Come along and see if the groom is a straight shooter.
Perth Bucks Party Boat
Send the groom off in style as you set sail on an amazing party boat in Perth. We have a wide range of boats to suit different group sized and budgets so let us know what you're after and we'll make it happen.
Choose from options such as fully licensed or BYO drinks, get it catered or cook up some food on a BBQ, whatever you go with the guys are guaranteed to have an amazing time. We can even organise to have a sexy stripper or a topless waitress on board – the boys will want to stay on board forever.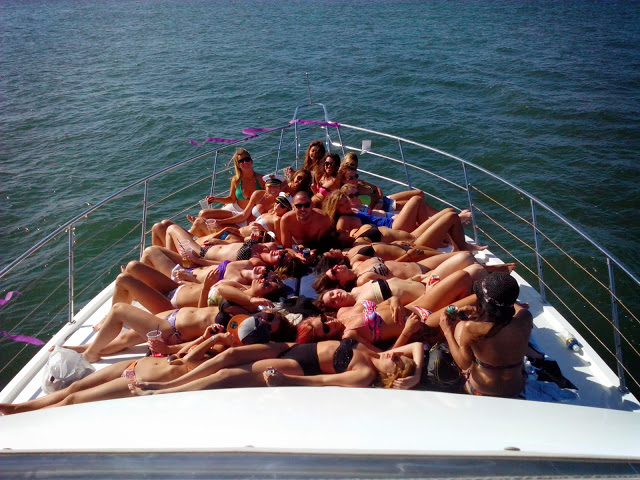 Benefits of Booking your Perth Bucks Day with GoBananas
Our interactive online itinerary makes it easy for you to keep track of where you're at in the booking process – as we make changes on our end it automatically updates on your end too
Your own personal party planner – don't deal with a different person every time you have a question – makes thing so much simpler when you don't have to repeat the same things all the time
Use our group payment system to keep track of everyone's share. They pay us direct so no awkward chasing of money for you
A wide range of activities and packages on offer – we can even create a package that's suitable to your needs and budget
We'll take care of all the boring stuff like organising times and forwarding payments to suppliers – all you have to do is show up and take all the credit for planning and amazing Bucks Day in Perth.