A Place to Stay for our Hens Parties in Brisbane
So now that you've decided on beautiful Brisbane as the location for the ultimate Hens Party, you're gonna need somewhere to stay. This isn't always as easy as it seems; choosing somewhere that fits in nicely with all your hens party activities is important as you don't want to have to walk for ages or taxi everywhere, also some places aren't too keen on hen's groups so you'll definitely want to choose somewhere that will be welcoming and friendly to you and your friends.
What's important to the Hen when it comes to accommodation?
The bride to be may have a few ideas about what she's got in mind for accommodation so it's important to ask a few questions to narrow down what you're looking for:
Are you looking to save some pennies or splurge a little?
Is dorm style okay or are you after something a little fancier?
What facilities are a must for the hen – e.g. a pool, bar or onsite restaurant?
Are you looking for something modern & spacious or charming and cosy?
Take a look at some of our great Brisbane hen accommodation options below:
Hen Friendly Hostel in Brisbane
This is a great option for those budget conscious hens who want to save their $$ for more exciting things. Clean, cosy and cheap dorm style accommodation awaits your group and with it being located in Central Brisbane you won't have to walk far to experience all that this amazing city has on offer. Facilities include: Sunny rooftop BBQ area, 24 hr security, café and bistro onsite as well as a bar that is the perfect spot for one last night cap before turning in. All linens are provided so just bring an overnight bag and you'll be all set for a comfy stay in this great accommodation for hen's parties in Brisbane.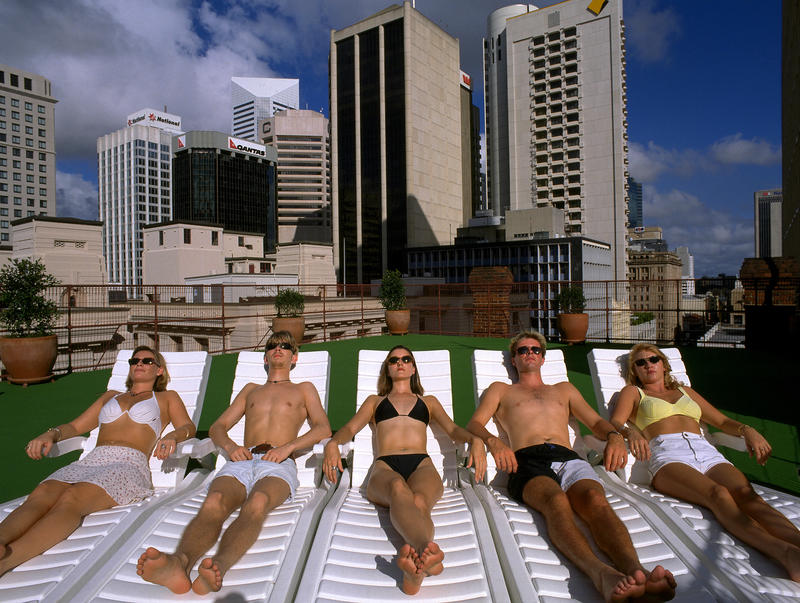 Hotel for a hens group
This place has it all – perfect for hen's groups that are looking for a little more style during their weekend away in Brisbane. This hotel is hens friendly and ready for you and your besties to come and enjoy all they have on offer. Twin room accommodation so great for those girls who like a little more space and privacy, facilities include room service, pool & spa, gym, 24 hr reception and onsite restaurant. They also have onsite parking and in-room Wi-Fi for an additional cost. With its central location you'll be only a stone's throw away from all the excitement going on in the CBD so call GoBananas today and book this gem in for your hen's weekend in Brisbane.