Day time ideas in Brisbane
Find all the best and most exciting hens party daytime activities and things to do in Brisbane for your hens party. We can help you plan and book a great day of hen activities in Brisbane. You can mix and match the activities as you please and build your own itinerary to suit your budget and requirements.
---
Hens Party Ideas Brisbane?
Looking for ideas and what to do for your Brisbane hens party? GoBananas can help you out! GoBananas has been organising hens parties in Brisbane for 10 years and can take the stress away from you in planning a successful hens day in Brisbane.
We have tons of great ideas & things to do whether you are a group of
A relaxing hens party in Brisbane, Action Brisbane hens or Simply drinking hens........!!
Here are some Brisbane hen activity ideas for these stereotypes.
Relaxing hens party ideas Brisbane
Pamper session. Book yourself a spa session for all the ladies. We come to you, so ideal for apartments, penthouses or someone house. A squad of beauticians will come and make sure you are all in pamper heaven.
Relaxing boat cruise on Brisbane River. Try our flash cruiser which has recently been done up, lovely seating upstairs overlooking the river and Brisbane. The option of drinking green tea or a glass of wine (I know what I will choose...) and simply have a good time with the ladies. Pretty relaxing.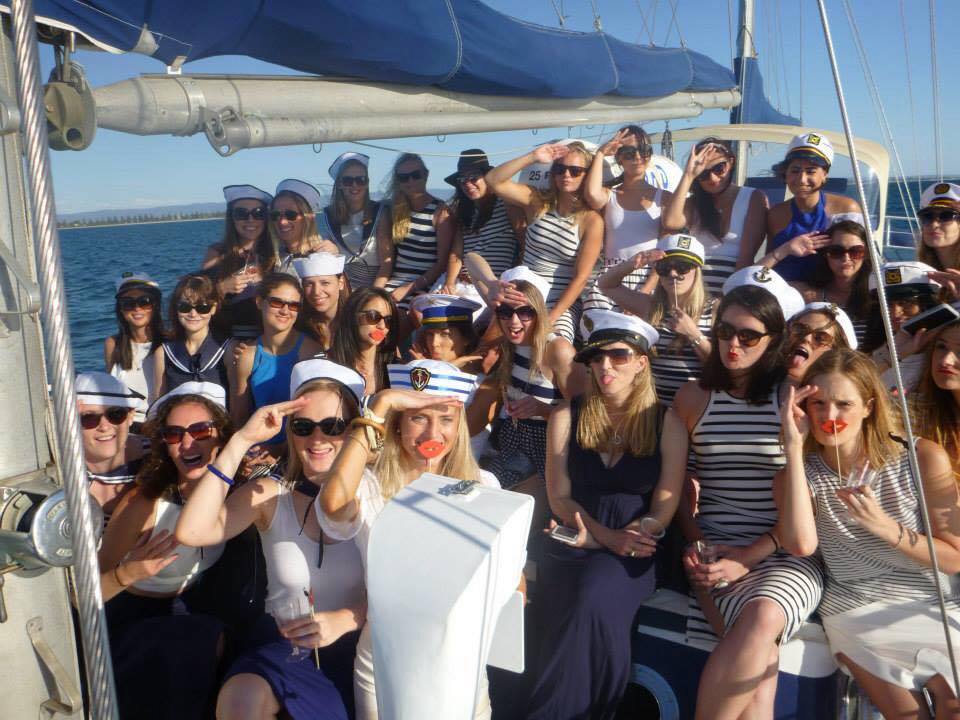 Brisbane Hen day seeking some action
Go Karting in Brisbane. We have some amazing tracks and karts that can go very fast. What a great afternoon your hen can have in Brisbane, speeding around corners, for-filling her race track dream and racing her fellow hens. Go on - let her win! Takes an hour or so, so don't worry you won't become a petrol head!
Paintball in Brisbane. Let the hens daytime be consumed with some shooting, running, ducking, laughing, falling, sliding and hit and miss. Paintball is fun and not all about hurting. Don't chicken out if the bride would love something like this. Give it a go and be surprised how much fun it is. Located in some great locations with great facilities.
Claybird Shooting for the hen with a good eye. Instructors to be part and coaching the ladies. Most of the clubs have smaller, lighter guns for hen groups, so making your hen daytime in Brisbane a success, is easy.
Pole Dancing Class in Brisbane. I think this activity comes under action, cause you are swinging around a pole, legs upside down, and dancing away. Studio located close to Brisbane city center.
Drinking & Naughty hens party ideas Brisbane
Cocktail making class. Learn to make those yummy cocktails and be in a fun environment doing it. Have some drinks while doing it and perhaps even have some finger food for afterwards.

Topless male waiter in Brisbane. Book a stunning topless male waiter for 2 hours and have some fun. Gobananas loves the idea of some sexy eye candy strolling around serving food and drinks for our hens parties. He comes to you, so either at a house, venue or on a boat cruise.
Brisbane Male stripper - if you are more after some action a 3 song dance show could just be the ideal show stopper to book. Again an afternoon with the girls on a boat, house or venue - this is bound to get everyone laughing and getting the hens day on the right track....
Wine Tour in Brisbane, visiting some wineries. Brisbane has a few wineries that are more than happy to take a hens groups. Drink wine, chat, private tour with own driver, and remember to buy some wine for later on.
Life drawing class in Brisbane for a great hen daytime event. Fun, fun, fun and looking at some male nudity surely requires a fair bit of drinking. Trust us, this is a great hen daytime activity and even mother-in-law will find this appropriate and fun to do. Run by a host who is great and happy music in the background.