Having A Fantastic Hens Party Gold Coast!
. You ladies will have the best Gold Coast hen weekend possible!
. We only suggest the best, most popular and fun activities in Surfers Paradise!
. Your GC hens party will be planned by people who know how to party!
. No hassle, no fuss and absolutely no pains in the butt when dealing with us
. We know all the best places for you ladies to stay near Surfers Paradise!
Why You ladies Should Have A Hens Party Gold Coast!
You ladies who love to be a little more adventurous, naughty and wild will love to have a hens party Gold Coast This is a great place for a party and you really do get the best of the day and the night when it comes to a fun daytime scene and a pretty crazy place for a hens party. From the beach, the food, the clubs and everything in between, you girls will have an awesome time here!
How To Get To The Gold Coast FOR YOUR HENS WEEKEND AWAY
Hop in the car and head West……. Only kidding, but seriously getting to the Gold Coast is not going to cause you any problems no matter if you do drive or decide to fly.
The Most Awesome Hen Party Ideas Gold Coast!
Live it up in the Gold Coast with this very popular hens day ideas!
Burlesque Dance Party
Pretend you are in the Moulin Rouge or on the set of the movie Chicago with a fun couple of hours learning the, I guess you would say art of, Burlesque dancing! This is just a laugh a minute and you ladies can get all dressed up in some really sexy gear. This is all about you having a great time with your best friends and learning a few fun dance moves that you can use when you hit the club. Burlesque dancing is a very popular thing with our hens groups and I am sure it would suit your group perfectly.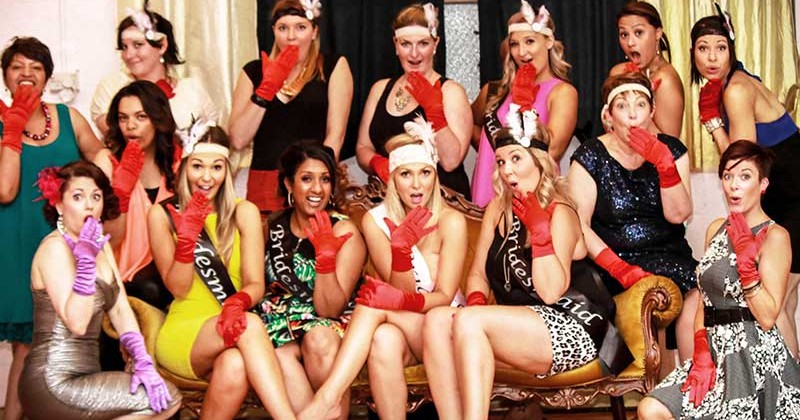 Pole Dancing Party
I am pretty sure that all over Australia that pole dancing is becoming the number one, hens day idea. And with pretty damn good reason as well. You see this something that is just ideal for a hens party here on the Gold Coast. You will get to see how pole dancing is done and learn how to use that pole as part of your sexy dance routine. Now if you have two left feet (like I do!) then do not worry as this is about you laughing it up with your friends and if you are lucky learning a few new sexy tricks that you can use with your other half when you get home.
Boat Cruise on Gold Coast
Hire your own private boat for 3 hours or so and cruise around Surfers Paradise. Amazing experience and so much fun for everyone. Most boats leaves close to Marina Mirage on Surfers, so less than 5 min from Surfers Paradise. Some boats are beautiful launches and others are more basic. Depending on your hens party budget perhaps add a male stripper or male waiter to the cruise. Catering and BYO options are available as well.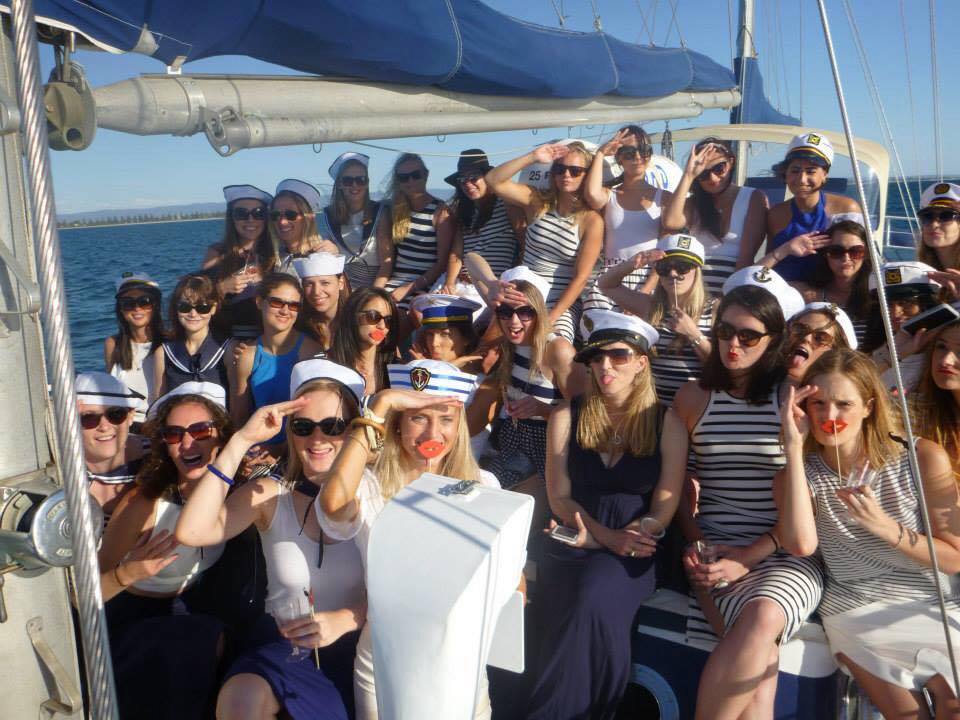 Rooftop Bars on Surfers
Book yourself a great spot overlooking Surfers and Gold Coast. Great spot for any hens party looking for something a bit more glam and stylish. GoBananas has rooftop packages including food and drinks
The Most Popular Hen Party Ideas Gold Coast
A Gold Coast hens party is a guaranteed wild and crazy time! Here are what other hens parties have had a great time doing when the sun goes down in the Gold Coast!
Party Bus on the Gold Coast
Get your butts on board our Surfers Party Bus and you will be on one of the most amazing, pub crawls in the history of the world! This is a great Gold Coast hen party idea and something I am sure you will all be talking about for a long time! You can hire this party bus for between 2-4 hours and be taken around the Gold Coasts best bars or simply just party on the Party Bus which is no "normal" bus! This has been custom made so that the party never has to stop when you leave the bar. The Party Bus has a great sound system, nice seats, a pole and some fun loving staff.

Top 3 Gold Coast Restaurants
Eating with your friends is always a lot of fun and here in the Gold Coast, you have plenty of choices for a great place to eat during your hen weekend.
Four Winds Revolving Restaurant
See the true beauty of the Gold Coast and eat some amazing food at The Four Winds Revolving Restaurant you are up high in a revolving restaurant which already is about a number 10 on the cool scale, but as well as that the food here is also really nice as well.
The Moo Moo Wine Bar & Grill
Any restaurant that goes out of their way to have "wine bar" in their name like the Moo Moo Restaurant Wine Bar & Grill does gets my attention right away. This is a great place for a meal during your Gold Coast hen weekend. They offer a great menu with a decent choice (for you fussy eaters) and they also have an awesome wine list. All wrapped up in a really funky and cool decor!
Omeros Bros Seafood Restaurant
Omeros Bros Seafood Restaurant is just a perfect hen day idea! You see as you are so close to the sea it really does get you in the mood for some nice and fresh sea food and a little bit wet as well…. Only joking. That is what you get here. With fun and very friendly staff and a huge selection of seafood , Omeros Bros Seafood Restaurant is a very popular place to eat in the Gold Coast!
Top 3 Gold Coast Bars
Have all the wine and cocktails (hey drink responsibly ladies!) you can handle during your Gold Coast weekend at these amazing bars!
Chill
This is a wine bar/restaurant so it ticks a few boxes of what you need during a hen night. Chill is a really cool place…… sorry for the terrible pun. But seriously, Chill is a very laid back and relaxed type of bar and it will serve you sexy ladies well as a place to kick start your hen night with a few nice warm up drinks.
The Miami Tavern
The Miami Tavern is a bar that really prides themselves in having a ton of live entertainment going on. From live shows, bands, gambling and other fun stuff. The Miami Tavern is the kind of bar where you could go every night of the week and be blown away at the crazy stuff they have booked. A great time is always going to happen here.
JPops
Lastly I have for you one for you one of the craziest bars I have ever had the pleasure to drink and sing in! JPops is a karaoke bar, but it is based on those over the top and wild, Japanese style karaoke bars. They do have a "bring your own drink" type of place, but just load up on cheap alcohol and belt out those hits!
Top 3 Gold Coast Nightclubs
Get all dressed up in your sexiest and hottest outfit and party in style during your Gold Coast hen night!
Escape!
The reason that I have picked, Escape! on this list is because ending your night here is just such a great Gold Coast hen night idea! Theme nights is the name of the game here from Roman nights, stripper nights, cabaret nights and all other kinds of fun. I am sure that no matter what time of year your hen do is, that there will be some kind of event going on…….. and it will be crazy!
Love Nightlife
Yeah I thought that it has a weird name as well, but Love Nightlife is one of the most popular, Gold Coast nightclubs. Especially for ladies who are on a hen night. While you can just throw back the cocktails and party the night away here, Escape! are now for having some of the best club night entertainment in the Gold Coast!
Cocktails Nightclub!
This is a multi-level nightclub and a place where really the party never stops. If you want to make sure that your Gold Coast hen night ends at a club where you can dance like a maniac to some of the best tunes around,Cocktails Nightclub offers a great atmosphere in a club that is just freaking huge!!!! Seriously a huge part of the fun here is stumbling around checking everything else out.
The Touristy Side Of The Gold Coast
Gold Coast is home to some really cool tourist attractions that would be a great for your Gold Coast hen weekend. The Sky Point is crazy! Here you can see the Gold Coast from a crazy high point , have some food or even go for the famous Sky Walk! Next up I have for you The Glow Worm Caves which is scary, enchanting and pretty awe inspiring all at once. These are two of the most fun and interesting tourist attractions, but the Gold Coast is full of cool things for you to see during your hens party.